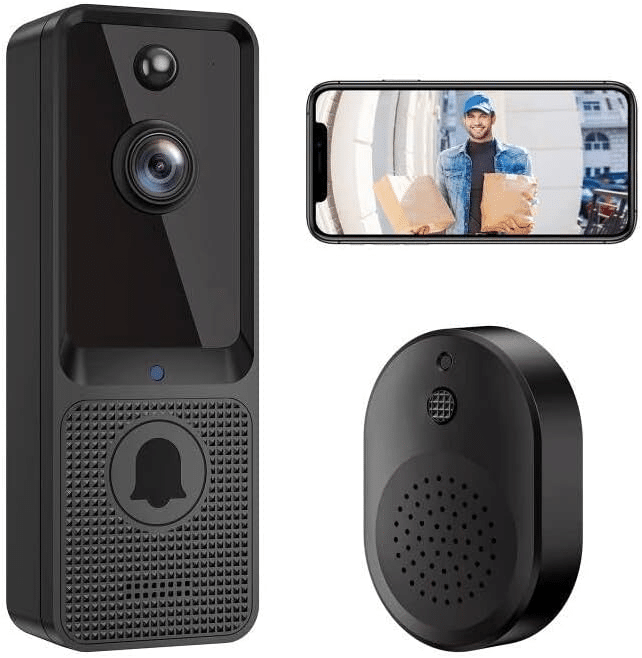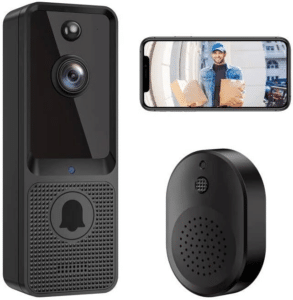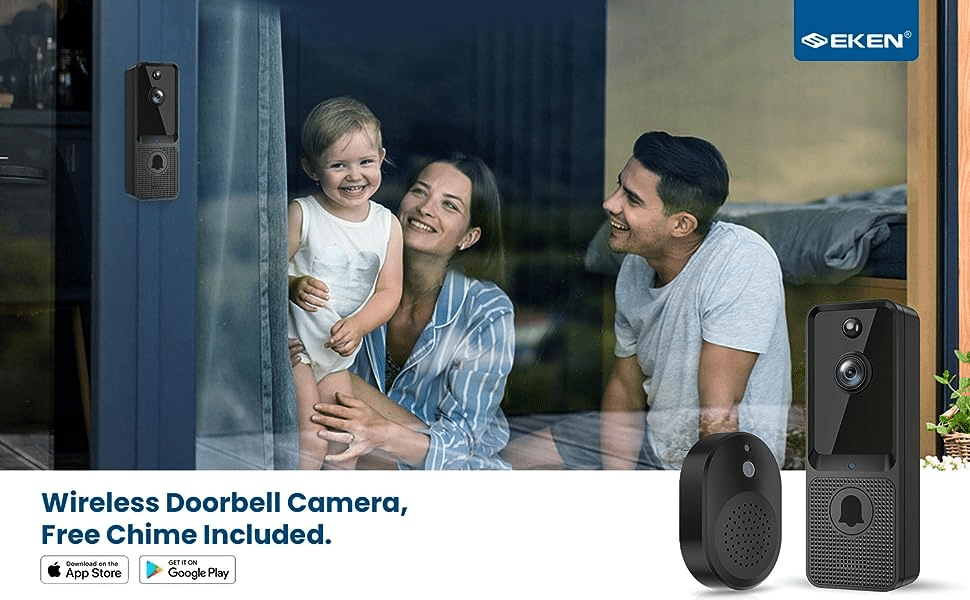 Complimentary Chime Included: Install the included doorbell chime in areas like your dining room, kitchen, or patio to be alerted when someone rings your doorbell. Pair one smart doorbell with multiple indoor chimes for added convenience.
Effortless Charging: Remove the insulation tape from the battery's base and charge it fully before initial use. Rechargeable batteries can be charged using the provided USB cable and a DC 5V 1A or 5V 2A power adapter (a phone charger will work). Note that the charging adapter is not included.
2.4GHz Wi-Fi Support: The EKEN doorbell camera is exclusively compatible with 2.4Ghz Wi-Fi, ensuring fast and stable connectivity. (5GHz Wi-Fi is not supported)
App Alerts: Get call reminders when visitors press the doorbell.
Two-Way Audio
Interactive Two-Way Communication: Connect with visitors anytime, anywhere, for smooth, real-time interaction.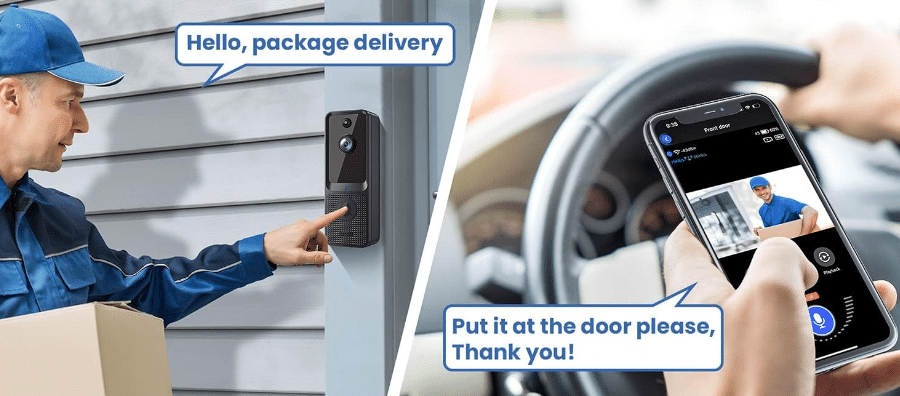 PIR Motion Detection
Intelligent AI Human Detection: Utilize the AI human detection feature for precise identification of people while disregarding other moving objects such as vehicles and foliage.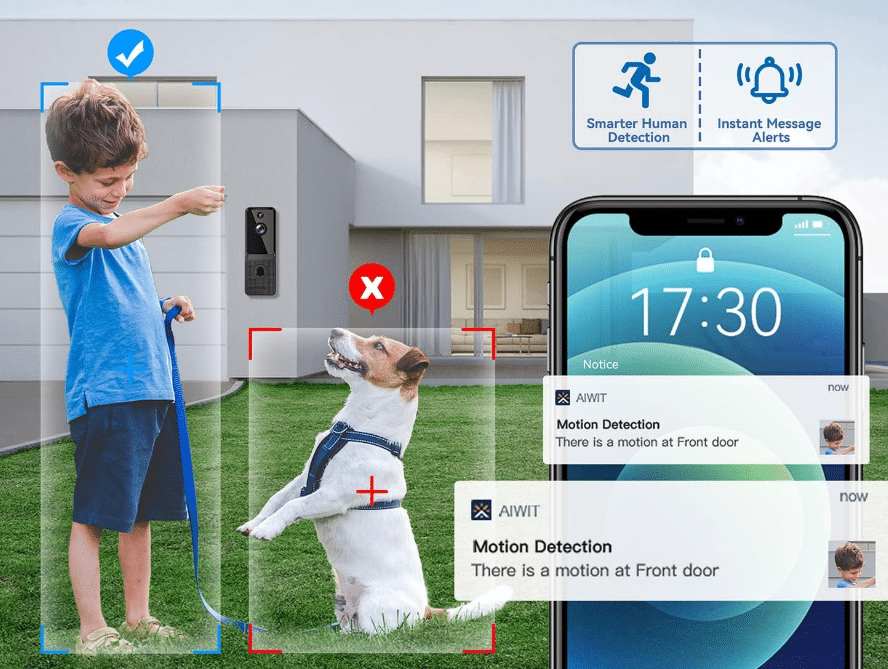 Wide-Angle Lens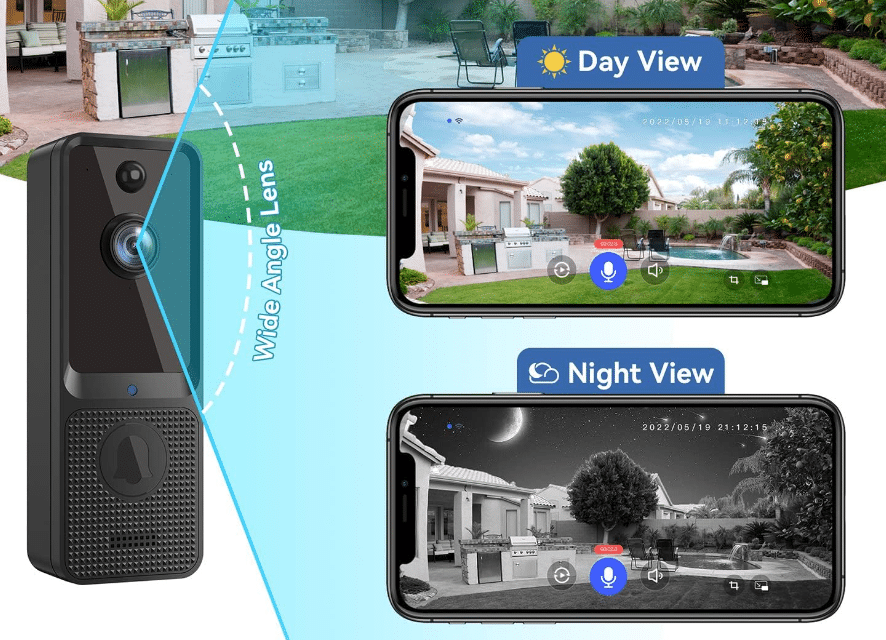 Convenient Cloud Storage Private Protection
Protected Cloud Storage: Benefit from AES-128 encrypted cloud storage with an optional subscription plan (available separately). Take advantage of a 30-day free trial for easy access to recording, reviewing, and sharing your videos.
Fast Download
Fast Viewing Speed
Free Free Trial within 30 days
Loop Record for 30 days
Completely Wireless Design: Crafted for 2.4G Wi-Fi (5G Wi-Fi not supported), this doorbell camera includes a free Doorbell Chime, ensuring you're always aware of visitors, no matter your location.
Why Choose EKEN Smart Video Doorbell?

Ultra Wide-angle Lens & IR Night Vision
Providing a crystal clear image day and night
Real-time 2 Ways Audio
See, hear and speak to visitors from anywhere

PIR Motion Detection & Humanoid Algorithm
Instant Alarm Notifications
Group Sharing-Family members can view
the real-time videos on app at the same time
100% WIFI FREE & EASY TO SETUP AND USE

Download Aiwit App on your phone and open it.
Follow the steps in the App to connect the doorbell.
Setup and enjoy smart video doorbe
Install the smart doorbell to the ideal location.